TEQlease Capital's Partners
Our relationships define TEQlease Capital:
Customer Diversity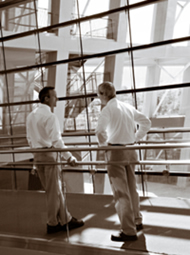 TEQlease Capital customers are Fortune 1000 and other public companies, small local businesses, medium-sized private companies, educational institutions and investment companies. They are technology distributors, diversified industrial companies, professional corporations, schools, financial institutions, insurers and management companies. Each is different. TEQlease maintains strong long-lasting relationships with its customers, who look to TEQlease to provide a repeat leasing solution more often that a single lease transaction.
Vendor Partnerships
TEQlease Capial understands the value of its equipment vendor partnerships. When the end-user decides to lease, vendors get focused attention from TEQlease, coordinated management of the equipment sale, prompt payment of invoices, and quick resolution of end-user lease issues.
Banking Relationships
TEQlease Capital finances its customers and its business with a large group of financial institutions, all of which are members of the Equipment Leasing and Finance Association of America. TEQlease's varied customer base requires TEQlease to maintain many relationships with financial institutions to ensure coverage of all industries and customer profiles, and that can provide competitively priced capital to fund leases.
Industry Affiliation
TEQlease is a proud member of both the Equipment Leasing and Finance Association and the National Equipment Finance Association. We are committed to maintaining the standards of these associations in all of our business practices.